Contact Us
Infinity Martial Arts, Unit 4-6 Artillery Road, Lufton Trading Estate, Yeovil, Somerset BA22 8RP
+44 (0)1963 440742 (Daytime)
+44 (0)786 506 2234 (Anytime)
Info@infinitymartialarts.co.uk
Our Kids Freestyle Kickboxing classes are designed for 4 - 16 years, boys and girls all abilities from beginner to advanced. With always a minimum of two instructors in attendance to support and guide students through the lessons.
These classes are high energy, action packed and very fun. Students will be taught techniques from our tried and tested Kickboxing syllabus created by our World Champion instructors. Each class will involve a variety of kicks, punches, blocks combined with fitness, agility and reaction drills. Children will learn a variety of life skills which help them become strong confident young individuals.
Children will be taught vital Self-Defence techniques which will help them stay safe and defend themselves in dangerous situations they might be exposed to in this modern day world. They will also be introduced to safe competition sparring, which they can pursue further w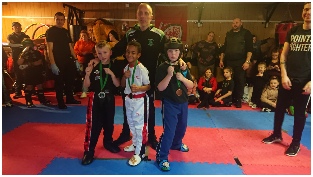 ith the club by competing at National and International tournaments.
Parents who have enrolled their children in our Kids Freestyle Kickboxing classes have seen great improvement in their child's confidence, behaviour and social skills after only just a few weeks of training at Infinity Martial Arts.
If you would like your child to gain the amazing benefits from training with us please BOOK THEIR FREE TRIAL CLASS TODAY! CLICK HERE
" Infinity Martial Arts is great Club and is suitable for all ages and levels. My son has been going to Infinity for three and half years and became a World Champion last year and has achieved so much more, this all down to the professionalism of the instructors.
Highly recommend you try the club, you won't regret it! ''
Darren Bees
(Father of Ollie Bees)