Contact Us
Infinity Martial Arts, Unit 4-6 Artillery Road, Lufton Trading Estate, Yeovil, Somerset BA22 8RP
+44 (0)1963 440742 (Daytime)
+44 (0)786 506 2234 (Anytime)
Info@infinitymartialarts.co.uk
" Absolutely brilliant place to take your kids, everyone is really supportive, welcoming and the club has such a family feel to anyone who walks through the door. "
Samantha Mosdell
(Mother of Hollie Cullen)
Does your child dream of being a superhero, Ninja Turtle or a Power Ranger? Are you an Adult who wants a challenge, to push your boundaries and step out of your comfort zone? Th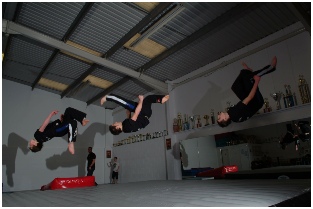 en let us welcome you to this high octane and adrenaline fuelled class "Tricks, Kicks & Flips" .
This class brings together the flamboyant side of Martial Arts with the acrobatic skills of Gymnastics combined with Dance and Free Running/Parkour moves all rolled into one. Our Instructors have worked as Stunt Men on Hollywood blockbuster movies, performed in front of thousands live on TV, worked alongside top music artists in their videos and now they are at Infinity Martial Arts to teach you!
In these classes you will be taught all the basics and foundations building up to more complex moves such as Front and Backward Summersaults, multiple tumbling flips, spins and twists in the air to high flying kicks. After just a few weeks of tuition students will feel like a real life ninja.
Our fully equipped facility is designed to provide the best possible friendly training environment for students offering a safe space to learn moves at a beginner level then to move on to more advanced techniques with ease. With top of the range equipment available with a Gymnastic Sprung Floor, Large Matted Area, Crash Mats, Spring Board, Launch Pad, Wall Incline and Free Running Obstacles we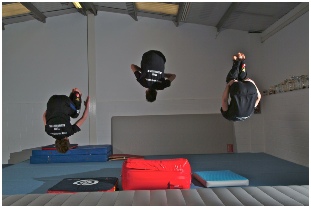 have everything you need to defy gravity.
In our Kids classes we aim to boost your child's confidence, channel energy in a positive way and to help your child learn to overcome obstacles which will help them succeed in their adult life.
The Sport of Martial Arts Tricking is sweeping the World with brands such as Redbull backing athletes. Infinity Martial Arts is one of only a few clubs within the UK offering a dedicated class in Tricking., So don't delay, take the opportunity to learn now!

If you or your child would like to take up a challenge and enter into the amazing dynamic World of Tricks, Kicks & Flips BOOK A FREE TRIAL CLASS TODAY! CLICK HERE